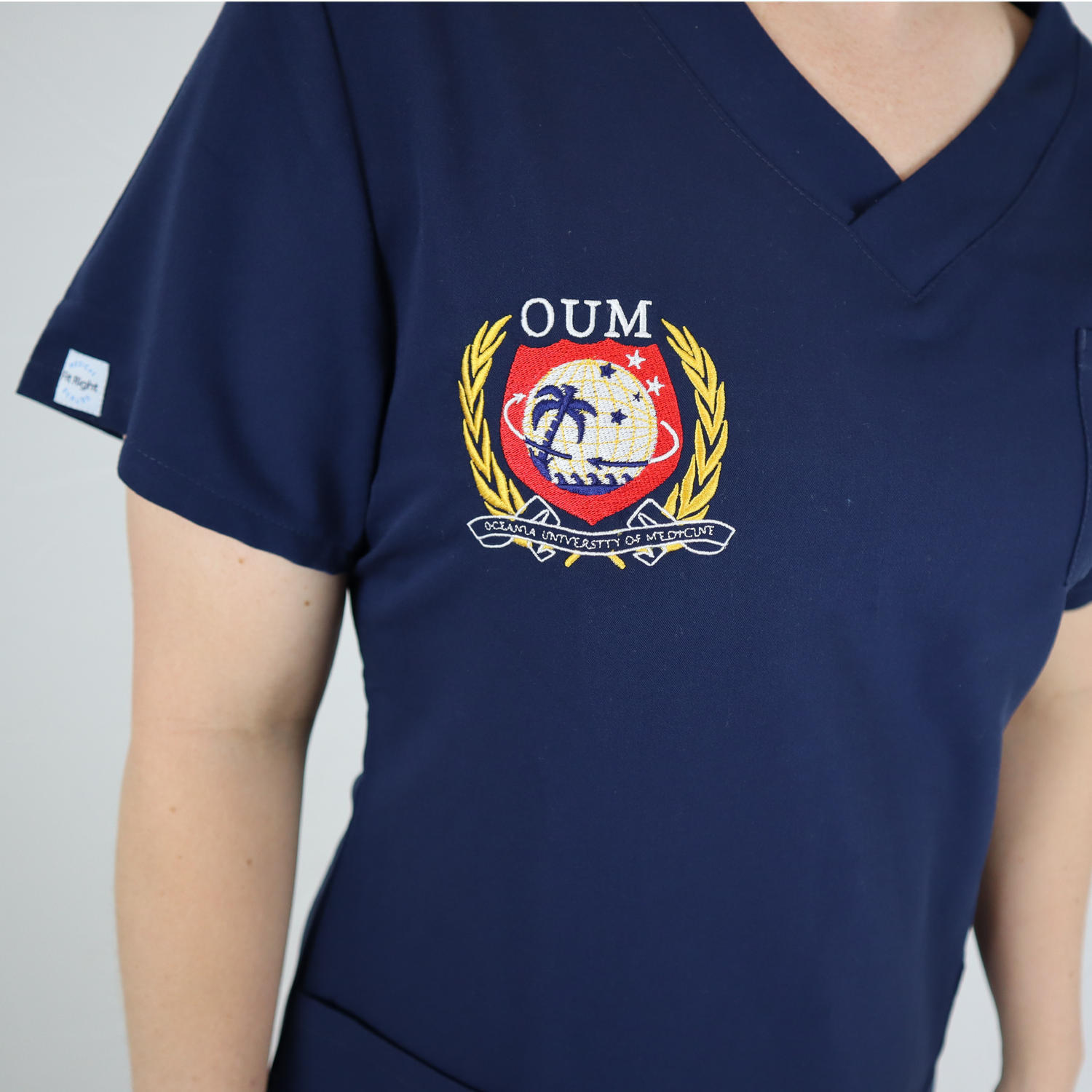 OUM x FRMS
OUM is supplying scrubs to students in their final SBM and clinical years and staff who assist with the OSCEs and the Clinical Skills Courses.
All tops will be embroidered with the OUM Logo on the right hand side.
OUM Information & Size Guides
Here you will find all of the information regarding the OUM x FRMS Scrub Set Initiative.
Here at FRMS our Scrub Sets are Unisex. Whilst we are passionate about creating a space for women and currently choose to focus our marketing attention to this demographic our scrub sets are made from a durable, high quality fabric that is comfortable and suitable for all.
All of our scrubs are designed to fit true to size however, our designs are unique and so is our size chart. For the perfect fit we recommend taking your measurements to ensure that you are selecting the perfect size for you.
Please note the key points below:
Our waist and bust measurements are the circumference of the garment.
To measure bust and waist, wrap the tape the entire way around yourself.
The length of the pants are taken from the inseam.
Our recommendation is to measure the inseam of a pair of pants that you already own that fit well.
If you prefer a looser fit, select the next size up.
If you have any questions regarding your size, please just reach out to our team who are always happy to help!
Once you have selected your size, please complete the Order Form and email to hello@fitrightmedicalscrubs.com.au
Women's Size Guide:

 Men's Size Guide:
Freight: 
Students/Faculty are responsible for paying for the Freight of their Scrubs Sets.
Once you have processed your freight charge please allow approximately 7 business days for embroidery and dispatch. Once your parcel is dispatched, depending on your location, it will take approximately 7-10 business days to arrive. This will vary depending on your location.
Please see below links to the payments pages based on Location:
Freight Cost: $12.95
Freight Cost: $19.95 
Have a Question? Ask Away.